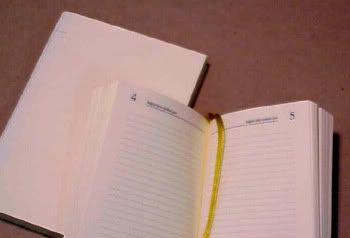 January:
We predicted that the Arctic Monkeys would be big in 2006, and by golly they were - their album broke records as the fastest selling album and went on to sell over 1m in the UK alone.
Son of Dork didn't quite do so well,
in fact
their album was less than 3 quid in the bargain bins today!
Brokeback Mountain was all the rage at the box office and the award ceremonies soon followed with gong after gone for this moving film. We even featured a picture of Heath Ledger naked.
Video Blogging was another prediction for 2006 - who would have thought YouTube would be sold for over $1b. Now everyone uses videos on their blog or MySpace.
February:
The controversial Islamic cartoons caused worldwide storm but raised the question about censorship. The Brits, NME, BAFTA's and Grammy's kept the blog busy with a celebration of British music and movies. Meanwhile news that Kym Marsh (ex- Hear'Say) and Anthony Costa (ex- Blue) were hopefuls for the UK entry in Eurovision was closely followed by Las Ketchup announcing they were entering for Spain................. none of them had need bother - neither Kym nor Anthony made it as the UK entry and Las Ketchup faired badly in the contest.
Ashley Cole kept the tabloids busy with allegations of drunken phone sex and two footballers performing oral sex on each other. The blog also had a sexy picture of singer Simon Webbe - topless!
March:
You could find out "31 Things About robmacca" this month and you were invited to "Spank The Monkey" at the same time. Eurovision got hot with some saucy pictures and video's of certain contestants doing the rounds!
The Commonwealth Games went to Australia and some interesting pictures followed, then Australia came here as one of my forum friends came to visit me in a mad 24 hour meet up.
Melanie C scored a #1 in Spain for 4weeks with "First Day of my Life", Melanie Brown dyed her hair red and Posh Spice looked darn sexy in black.
One unusual topic covered in March was the "Non- Uniform Day" that had thousands out in the streets................. erm naked!
Girls Aloud
turned up looking stunning at the
"Alien Autopsy"
premier in London,
robmacca
spent nights out with strangers and friends and footballer
Ronaldo
looked hot in or out of clothes as the pictures showed!
Talking of showing a bit of flesh - we showed a picture of Prince William showing more than we are used to seeing - but was it fake? Maybe you'd like to confess all to God in an interactive blog topic which allowed you to type and talk to God!
It was music galore as
Take That
performed a stunning concert return,
Girls Aloud
amazed crowds in their nationwide tour and
Eurovision

Song Contest
fever took over the blog.
Robmacca
posted a drunken video - singing along to
ABBA
and
Geri

Halliwell
posed in Hello magazine with baby Bluebell Madonna.
Finally, it was time to get into the mood ahead of the World Cup, by posting a selection of sexy footballers pictures - just for the fun of it!
June:
'Definitely Maybe' by Oasis top the NME "Best Album of All Time Poll", 5 Celebs get pictured showing their knickers and the Ordinary Boys become popular. The video for "Hips Don't Lie" by Shakira gets featured on the blog, then went on to spend 4 weeks at #1 in the UK charts. It was also announced that Top of the Pops would be axed after 42 years on the BBC.
Football fever took over the world as the World Cup arrived, along with about a million pop songs to milk that fact. Robmacca turned his hand to poetry when he wrote about being Prince Harry for the day, then seemed to turn into a James Blunt lookalike.
The end of June meant two weeks holiday in Cyprus - so to celebrate, new clothes were bought and a batch of pictures of guys in pants were published on the blog!
The British summer meant July became "Topless Month" on the Blog and on the streets.
Robmacca
got naked in Cyprus and just about everyone else got topless as the summer sun made us all hot and horny. The
World Cup
concluded with a
controversial
final between France and Italy. To celebrate Italy's win, some semi naked pictures of
Fabio

Cannavaro
made it during July's blogging.
Love was in the air as Melanie Brown and Eddie Murphy started dating, it was announced love would be in your hand as Britain was to stage it's first "Wank-a-thon" and talk of a Spice Girls reunion surfaced once again to celebrate 10 years since they first exploded into the pop world.
August:

The nakedness continued even if the weather wasn't as good - robmacca posted some "bath time" pictures that whipped up a storm with Blog viewers. We had the Lynx man getting naked on our TV screens and 154 people sat around wanking in front of each other during the "Wank-a-thon" event in London.
Sex must have been in the water as a survey shockingly revealed that Britain's teens were not using condoms during sex and another finding showed that 30% of teenagers lost their virginity before the age of 16.
In the music world - Madonna celebrated her 48th, The Brits are going live in 2007 and Boy George was reduced to cleaning the streets!


September:
Summer ended with a colourful collection of pictures from the garden. There were also pictures of friends past and present during a visit to London. New friends were made thanks to the Hospitality Club. Bjork announces she will reunite with the Sugarcubes for a one off event, Corinne Bailey Rae wins some MOBO Awards and Arctic Monkeys - "Whatever People Say I Am, That's What I'm Not" wins the Mercury Award. We didn't even mention the robmacca "bedroom pictures" (at least this time the clothes stayed on!) ....................
It was a Spicy month as Melanie B became pregnant with Eddie Murphy's baby and was spotted in London with a mystery man. Emma Bunton became the face of Children in Need and Strictly Come Dancing, and was also rumoured to be marrying long term boyfriend Jade Jones.
Victoria Beckham was constantly in the media spotlight as she teamed up with Katie Holmes for the Paris Fashion Week, later that month 3,000 turned up to her book launch at Selfridges in London. Posh and Becks topped the "Chav Rich List" published in the Daily Mail.


Prince Harry was reported to have got his privates out on parade, the Spice Girls reunion looked unlikely and we asked if the MySpace bubble was about to burst. October's blog also featured lads in pants and David Beckham semi naked.



November

Was the comeback month - with Take That launching their album at the end of the month, Simon Webbe was back with a new album (another good excuse to show pictures of him topless!) and Top of the Pops makes a return for Christmas.

Christmas looming and Royal Mail stir up a fuss with their "non religious" stamps, Girls Aloud switched on the Christmas lights at Harrods, Emma Bunton did the Convent Garden Christmas Lights and we posted some Christmas gift idea's - including sheep that poo chocolate!
Spice news came in the form of Melanie B choosing wedding invites, Melanie C releasing a LIVE HITS DVD with a signing and singing at HMV Oxford Street, Emma released the single "Downtown". Victoria went shopping at Oxfam while her book went straight in at #2 in the non-fiction section. Geri was promoting safe sex in Zambia as part of her UN Goodwill Ambassador work as well as being on the cover of OK magazine with her baby.
It wouldn't be right to pass the month without some pictures of underwear and both Sarah Harding and robmacca were featured. It was Sarah though that got all the attention from visitors to the blog!
December
December was all about Melanie Brown and Eddie Murphy as news broke that they'd split in sensational style. As each day unfolded, the blog brought the latest twists and turns. Hundreds came to read the news as it became global. There were more rumours of a Spice Girls reunion and Emma Bunton released her album "Life in Mono" but it only charted at #65, selling 12,000 copies.
We remembered the Cheeky Girls and welcomed Take That back to the top of the album and singles chart. There was the quiet launch of "robmaccaEXTRA" that provided more pictures than the normal blog. The year wouldn't be complete without more Sarah Harding underwear pictures and finally the year was completed by Jesse Melcalf.
Hope you all enjoyed the Blog in 2006 and I look forward to 2007 - bringing even more randomness and extras. Have a great New Year!