Brit Awards 2007 is to be shown LIVE for the first time in almost 20 years.
The last time it was shown live was when Sam Fox and Mike Fleetwood famously made the Brit Awards look crap!
But Best Pop,Best Rock and Best Urban awards are all being axed by the organisers.
Showing the Awards live is a massive risk as the previous years have shown. Who can forget Robbie offering to fight Liam from Oasis? Then the Spice Girls, Melanie C saying to Oasis "Come and have a go if you think your hard enough".
John Prescott (MP) had water thrown over him and Michael Jackson was almost attacked by an unhappy Jarvis Cocker (Pulp). On top of that we had the year the Brit Awards BANNED alcohol, leaving Davina McCall to just insult the audience instead.
So expect a great show at London's Earls Court on 14 February, as it will be shown on ITV.
I can't wait!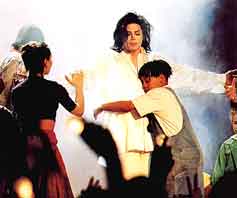 1. Michael Jackson gets attacked
2. Spice Girls have a go!
3. Robbie wants a fight.