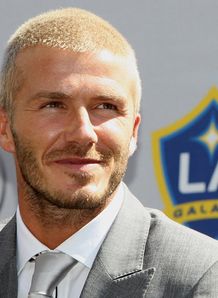 "
Beckham Mania
" continues to sweep across America and the rest of the world watches on. Even though
David Beckham
has sidelined by his ankle injury, the Beckham effect has already begun to lay hold at
L.A. Galaxy
.
Merchandise sales are up 300% league-wide but in terms of the LA Galaxy they're up 700%, reports Sky Sports.
"
That's not what we expected but the Beckham jersey is the number one selling item in
(American sports retailer)
Sports Authority in the United States - not a basketball, not a football, a Beckham jersey and that's
pretty good
," Major League Soccer commissioner Don Garber has said to reporters.
So while right across the US, debates go on about
David
and
Victoria Beckham
as to whether or not they have any influence in America - sales figures and magazine covers clearly show that "
Beckham Mania
" is alive and well.......
David Beckham
*
picture from Sky Sports