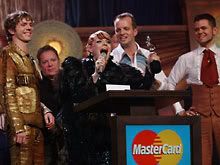 I thought that the Scissor Sisters looked totally fab and really deserved the Brit Awards. Not only were they dressed in really wacky yet cool outfits, they proved the critics wrong - in 2004 they dominated the British Isles while back home in America they go almost un-noticed.
Thank goodness for the Brit Awards , it sticks a finger up at the MTV plastic awards and the many American shows. Here`s to the Brits........ long may it continue to celebrate all that is British and give credit to all that is good in music!
Pity Girls Aloud didn`t win an Award ,but there is always 2006...........