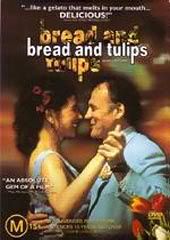 "Bread and Tulips"
The Storyline:
ROSALBA IS A HOUSEWIFE IN Pescara with teenage sons, married since 21 to a plumbing supplier whose mistress is her sister-in-law. When a tour bus leaves her, and her husband calls to tell her to stay put, she rebels slightly and hitchhikes toward home, deciding on a whim to continue to Venice. She lucks into a room in the flat of Fernando, a diffident, formal Icelander, befriends Grazia, a holistic masseuse, and gets a job at the flower shop of Fermo, a cranky anarchist. Her husband sends a portly plumber to find her.

Will duty and maternal instinct win out, or will Alba stay in Venice, combining Rome's rationality with Greece's imagination to find her true Italian self?
My Thoughts:
This was a great non glitz non Hollywood film that left you leaving the cinema feeling happy and good about life, I was pleased for the lead woman in the film Rosalba, who broke free from the shackles of an ordinary life in favour of something a little bit more special and the risk was well worth it. A blend of humour and love inter-twined to make a brillient Italian movie. The subtitles didn't bother me after a while and I was soon into the storyline.
It goes to prove Europeans can make good movies too - and leave an impression on all of those that watch. In life we can live like ordinary people and have ordinary lives or we can do the most unexpected and find a whole new meaning to our lives....................