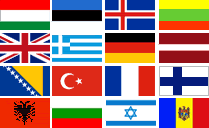 Eurovision Song Contest 2005 -UPDATE
http://www.bbc.co.uk/radio2/eurovision/2005
It is just 9 days until the Semi - Final and I am starting to get excited - yep you've guessed it, I am one sad individual. But I can't help it - Eurovision brings out the best in me. I love the different styles of music and absolutely love the voting. Last year I got into it BIG time and was hoping to do a party this year since it is the 50th Eurovision , but sadly I have no money so will be celebrating all that is Eurovision next Saturday with some good friends of mine.
Last year I was on DenDen and made quite a night of it - flag waving , wine drinking and score pad at the ready.......... Only to wake up about 4am with a bottle of wine in my hand. I felt like Patsy from Ab Fab! I think going to the Eurovision websites before the event got me more hyper and made me more interested in the event cos I could hear all the songs before the contest. No wonder I ordered the CD and DVD from Amazon following the fantastic event in Turkey last May.
This year I am more hopeful of the UK entry - Javine "Touch My Fire" as it has a more Eastern European feel to it, so I am hoping it will score well. I'm going to try and listen to all the other songs now on the BBC website to get me in the mood for next Thursday's Semi Final (shown on BBC3).
I love Eurovision!!!