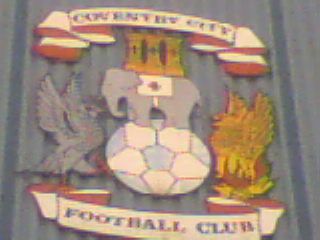 Coventry City Football Club Logo.
After 106 years, Coventry City Football Club are moving from the footie grounds they have been playing. It's easy to be nostalgic and sad but I'm both happy and sad.
Sad to see the end of an era and watch the fans go to the footie ground near to where I live, sad because of the history and sad because it was so close to my home. But I'm also happy cos I'll be able to park my car on match days, happy cos its a new era for Coventry and I'm happy cos there is a new 32,000 seater stadium with prospects for live music in Coventry at last.
I'm not much of a footie fan but I do like to watch the results - still, it was kinda sad to walk past the stadium and take the picture of the CCFC logo. Hope it all goes well in the new £113m stadium..........